Whenever we hear about massage, usually it comes to our mind a person is lying in a comfortable position with soft light music playing in the background and a therapist is rubbing your skin with scented oils. Well, it is true for some types of traditional massage but Thai massage is completely different in nature. Its origin is Thailand and it is considered a mixture of yoga and massage. The massage therapist uses different parts of their body including palm, fingers, thumb, and even feet and knees. It consists of flowing movements, stretching, and rhythmic massage along the body's energy lines and pressure points. The purpose of this massage is to loosen the tight joints and relax the body.
Clothing: Unlike the other massage in which you have to undress, Thai massage demands you to be fully clothed. The therapist may ask you to wear particular clothes.
Location: You can perform it either on a massage table or floor mat. It depends on both the therapist and client where they feel more comfortable in performing stretches on the body.
Operating procedure: Rather than other traditional massage techniques including kneading, relaxing motions it usually involves pulling, rocking and stretching techniques in order to enhance the flexibility and release stress from the body. In other words, a massage therapist stretches your body for you. Sometimes it is referred as "Lazy person yoga".
Time period: The time period can be extended from two to three hours in traditional Thai massage but many offer a short session of one hour.
Beneficial aspects of Thai massage:
Like other traditional massages, it also provides energy and releases stress. Thai massage also stretches your body increases the blood flow in the body and breaks knots that can cause serious health problems. Also, this traditional Thai massage is helpful in:
Cause reduction in tension headaches
Give relief from any kind of back pain
Reducing joint pain, muscle pain and provides flexibility to the body muscles
Provide comfort to the nervous system
Stimulate blood circulation and boost the energy
Help in increasing mind and body concentration
Helpful in maintaining posture and body alignments.
Improve breathing process
Whether the massage is painful or not?
If you apply sudden and deep pressure to muscles knots suddenly it will definitely cause discomfort to your body. But there is a difference between the pressures and stretching applied in an appropriate and professional manner than discomfort caused by a massage with inappropriate and unprofessional techniques. A qualified, professional and expert Thai massage therapist are able to apply appropriate pressure and movement so that you are not in pain.
Thai massage is not good for:
If you are suffering from a serious kind of physical health problems such as surgery, osteoporosis, cardiovascular diseases, then it is not recommendable for you. Expecting women should consult their doctors before having a massage. This massage can't be done on bruises, unhealed areas, burnt areas, tumors, and other fractures.

Things important to know before the appointment:
You should be asked to wear loose comfortable clothes before having a massage. A traditional Thai massage can lasts for one to two hours.
Avoid having a heavy meal before going to a massage
Make sure to give your complete health history because traditional Thai massage is not recommendable for some people
If at some point you are not feeling comfortable, tell your massage therapist
Book now
Best massage centre in Islamabad. Provides different massage services
Summary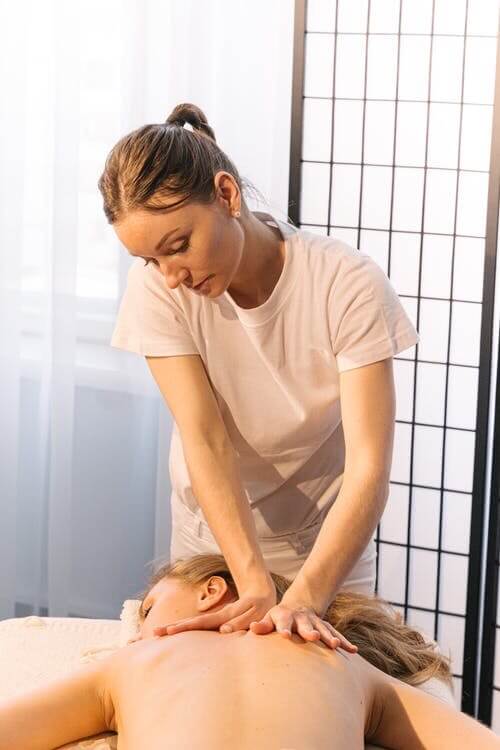 Service Type
Provider Name
Serenity Spas and Health Club Islamabad
,
F11 Markaz, First Floor Bizzon Plaza, Islamabad
,
Islamabad
,
Islamabad Capital
-
44000
,
Telephone No.+923186223338
Area
Description
Thai Massage is one of the oldest healing techniques. It involves different strokes with finger and hand. Relaxes the body and relieves pain.