WHAT IS DEEP TISSUE MASSAGE?
As the name suggests, this massage is truly focused on healing and restoration of deep tissues in our body. Using similar massage strokes as of Swedish massage, this therapy targets to fix deep down muscular pains or joints issues. The Deep tissue massage is focused on athletes and their day to day surgeries; however, it is also assumed helpful for anxiety and tension release.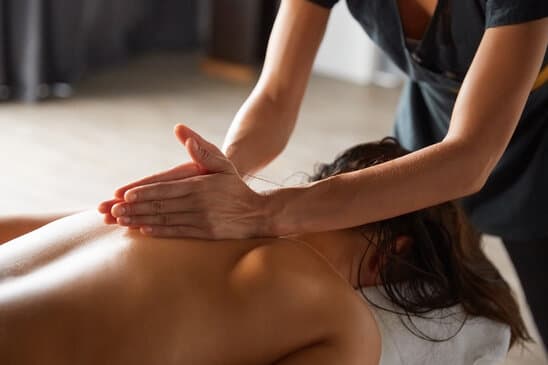 DEEP TISSUE MASSAGE AT SERENITY SPA
Serenity Spas and Health Club provides finest deep tissue massage in Islamabad. Our experts will carefully review the needs of your body after having in-depth discussions and knowing your history of issues. Our experts will then design your massage therapy to help you come out of the issues in one or more sessions depending upon the severity of the issues.
Our therapists are well trained and qualified to treat your body with the right technique and pressure points to boost your overall body wellness. We are providing services seven days a week to ensure we fit well with your busy work schedule. Feel free to give us a call if you have any concerns regarding Deep Tissue Massage.
Book Now or explore more services
Read our blog post to learn more about the benefits of deep tissue massage.
In order to have effect on the various layers of the body, Deep Tissue Massage uses a variety of strokes, including slow strokes and also the ones that use more pressure. Deep Tissue massage is known to be very beneficial for long term pains. Contracted areas that can benefit from this therapy are listed here:
Treatment of chronic back pain, both lower and upper back pains
Helpful in maintaining the blood pressure
Helpful in reducing stress, anxiety and muscle pains
Helpful in athletic recoveries and deep pains
Can be good for reducing labor pain and having a less painful delivery
Helps in reducing neck and shoulders pain
Unlike the basic massage types that are meant and work for anyone, the deep tissue massage is for targeted issues and persons. Where the other type of massages focus on body relaxation and mental rehabilitation, the deep tissue massage is to cure deep down injuries and pains. It helps sports persons recovering from injuries and muscle issues that not visible on surface of human body.